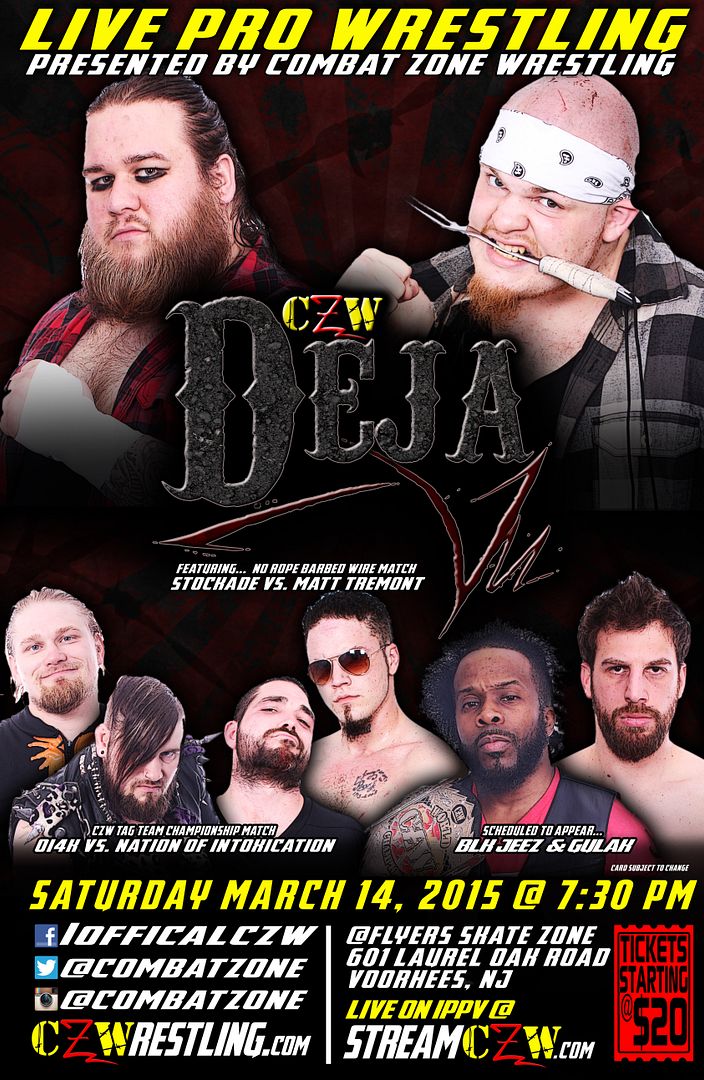 The show opens with Ruckus and Robbie Mireno being inducted into the CZW Hall of Fame. "BLK OUT" chants as the locker room surrounds the ring. This could have come later on in the show to sort of calm down the crowd between main event matches, but I'm not booking this thing so why not open with the crowd seeing some familiar faces, right?
Match One: Alexander James (Champion) vs. Greg Excellent (w/ Chrissy Rivera) *CZW Junior Heavyweight Title Match*
The name Greg Excellent sounds familiar, but I don't think I've ever seen him fight before. Alexander James is the guy who came out at "To Live is To Die" to cut a promo and was subsequently beat down by Gulak. He was absent from the last iPPV, so I'm not sure how we got from there to here and Greg Excellent gets a title shot and all that, but I'll just roll with the punches. Excellent is a big guy but he can move. He hits a cannonball in the corner ala Kevin Owens to start the match with the advantage. Excellent tries for a suplex from the ring apron with James inside the ring but he can't get it so he ends up just slamming James into the ring. James' security guys get involved, as he came out with two of them and they have names but they're kind of like his bodyguards or whatever. I'm used to seeing the chickenshit heels have one bodyguard but two as sort of security is a nice touch. And, no, it's not like how Seth Rollins has Jamie Noble and Joey Mercury. When running down the names of those Alexander James has defeated one of the commentators says "Donovan Dijak... or whatever his name was" and I laughed louder than I probably should have. Greg Excellent takes his singlet down during the match and is stripped down to only his boots, knee pads and Flash underpants. I'm having flashbacks of Big Dick Johnson, who is a producer for Lucha Underground now. James is not impressed with what seems like a comedy spot. I mean, guys, Blue Meanie wears a shirt for a reason, right? Remember when Blue Meanie got really ripped? Or did I dream that? Greg Excellent puts his singlet back on, thankfully, and ends up outside on the security guys. Chrissy Rivera hits a nice tornado DDT on Alexander James. She's a spitfire. After a body press and near fall, Greg Excellent hits a tigerdriver for the pin and win. So apparently Alexander James wasn't recognized as the champion before but now Greg Excellent will be? Does that mean if James won he'd get his props? And what of Gulak? Should I just accept that he has moved onto bigger and better things?
Match Two: Conor Claxton vs. Lucky 13 *Conor Claxton's Death Match Trial Series Match*
This came about last month at the "Sixteen" show, but it is worth noting that even though this match was on a show on Pi Day, it was also the day after a Friday the 13th, so you have to enjoy that. We went from Friday the 13th to Pi Day to the Ides of March to my sister's birthday to St. Patrick's Day. Wow. I'm just realizing that now. That's a lot of days. Lucky 13 has one long tights leg and one cut at the knee, yet he wears sneakers to make his in ring gear look like something between Zack Ryder (who has switched it up though) and Taka Michinoku. Where is Danny Havoc? Shouldn't he be out here watching this match he made? Conor Claxton's nickname is "Wrench" and as such I shall call him that during the match. On the outside, Lucky 13 throws Wrench into a chair set up in the corner of the guardrails and that was a pretty bad spot to take. Lucky 13 sets up some chairs on the outside, which gives Wrench time to recover. Wrench drops Lucky 13 spine first onto the ring apron. They battle on the ring apron, above those chairs Lucky 13 set up, and Lucky 13 hits a top rope DDT that sends Wrench mostly to the floor, barely touching one of the chairs and Lucky 13 kind of takes an awkward seat on the other chair. That was a Lucky 13 move but probably did more damage to him. Wrench is bleeding and Lucky 13 gets a two count. As I'm watching this match, I'm wondering whether or not the older CZW fans are mad at all that CZW isn't just seemingly all death matches, as I remember it once being. Maybe I just watched the death matches though because I remember some sort of high flyers tournament too. I feel like anything that CZW has done though to tone back the violence has been good because the old cliche is about less being more. There is a spot where Lucky 13 tries to pick up Claxton's wrench but he can't because only Claxton can. So we had a Flash reference in the first match and now Thor. Lucky 13 sends Wrench face first into the pit of thumbtacks. The commentators note that Wrench will have to go through three matches in total but only if he makes it through this one. Lucky 13 curbstomps Wrench into those thumbtacks again and this kid might have been smarter to stay down for what turns out to only be a two count. Wrench comes back and hits a tombstone onto a chair with thumbtacks on it for only a two count. How that did not kill Lucky 13 I have no idea. Wrench is rearranging things in the ring which means his next move will backfire. Lucky 13 flips off the top rope in what the commentators call an Irish Car Bomb and Wrench gets somewhat into the thumbtacks as Lucky 13 ends up sitting in them. Lucky 13 locks on a double leg submission hold of some kind- maybe a Texas Cloverleaf?- and as Wrench is stomach first in those thumbtacks he has no choice but to tap out. Wow. Post match, Danny Havoc does come out and says that he was impressed enough for Wrench to continue and at the next iPPV Wrench will be facing Devon Moore. Looks like this will go to all three matches then, yeah?
The ring is cleaned up after that match while BLK Jeez is introduced. BLK Jeez got a haircut. Jeez says he's been accused of politicking the title and I'm not sure about that because it seems like he has his matches set up fairly. Matt Tremont comes out and says he wants a shot at the CZW World Heavyweight Championship, which might be a bit premature given he hasn't had his match yet tonight. Jezz says he can have his shot but he's going to "beat the fuck out of the Bulldozer". Tremont says that the only person beating the fuck out of anyone is him beating the shit out of BLK Jeez, which Jeez says he likes the sound of and this whole thing just got confusing in a funny way. Are they beating the fuck or shit out of each other?? Tremont says it's the Year of the Bulldozer and he's on fire (not literally) and when he wins tonight (spoilers!!) he's coming for that title. So can we assume that if The Bulldozer loses tonight he won't get his title shot and this whole promo will be rendered moot? If so, this might have been a poor booking decision because it puts it to the point where either a) They just gave away the result of their main event tonight or b) They no longer have a main event for next month after all of that. Maybe if Tremont loses in the main event we can have a three way dance?
Match Three: Pepper Parks vs. Drew Gulak
Pepper Parks is flying solo and I remember this from the last show and didn't make mention of it, but Parks comes out to that "Radioactive" song by Imagine Dragons and it just bugs me because that was everywhere last year with tween movies and the like. I want to see Pepper Parks beat up just because of his entrance music. Gulak is fresh off his loss at EVOLVE 38 six days ago to Chris Hero. Parks works Gulak over for the start of the match but after a sitdown powerbomb Gulak kicks out at one. Gulak comes back and the two have some back and forth before Gulak applies a rear naked choke. A "Go To Sleep" chant briefly. After some more fighting, Gulak hits his finisher planting Parks on his neck in a bad way and that's good for the three count.
[Editor's Note: Cage Match dot net has this mistakenly listed as a win for Pepper Parks. Someone should fix that but I don't have the time to figure out how]
Match Four: Bill Carr vs. Buxx Belmar
Bill Carr comes out first to address where Dan Barry is. He says he's taking some time off to get addicted to drugs and watch snuff films. Carr says that CZW wants him to have a new partner and they picked Buxx Belmar. Dick Justice is with Bill Carr, so why don't they just tag then? I actually want to see Team Tremendous vs. Young Bucks when the Young Bucks return so I hope Dan Barry does come back for that. Carr asks Belmar why he should be the new member of Team Tremendous and Buxx just burps into the mic. Carr then asks him to do something to impress them. Belmar spits into the air and catches some of it in his mouth. There is a comedy spot with Buxx and Dick and then Carr says this must end in a wrestling match because apparently he doesn't want to be tag partners with Belmar. Buxx puts his finger down the back of Carr's pants and then makes Carr smell his own fingers in quite possibly the grossest spot in all of professional wrestling ever. Bill Carr hits a blackhole slam for a two count. Belmar goes to the outside and has audience members spit in his hand, even though some do decline. Belmar then proceeds to eat all that spit as Bill Carr throws up over the top rope and to the outside of the ring. Belmar has a quick roll up for the pin and win. CZW has their death matches and they've been known as ultraviolent but they need a new name for this. Ultragross? Bill Carr deserves better and he was at both EVOLVE 38 and HOH8 last weekend so I'm not sure what happened to Dan Barry but let's hope Team Tremendous can be reunited sooner than later. Yuck. Luckily I was not eating during that one.
Match Five: "Chainsaw" Joe Gacy (Champion) vs. John Silver (w/ Rex Lawless) *CZW Wired TV Title Match*
As soon as I hear that Deftones song I'm psyched, but then I realize Joe Gacy is coming out and I get even more psyched because I know someone is about to get beat up. So not only is Dan Barry absent tonight so is Alex Reynolds, the other Beaver Boy. Gacy takes it to Silver and as Lawless tries to get involved by arguing with the ref he takes a dropkick from Gacy as well. Outside the ring, Gacy gets chopped on the guardrail but then fires back with a huge kick and chops of his own. As they get back into the ring, Silver takes control. Snapmare and running dropkick by Silver as he asks the crowd if they saw that. Gacy comes back but then is caught on the top rope by Silver. Silver scores a near fall. Gacy throws Silver into the first row, as Lawless tries to catch him but it doesn't seem to work. Silver somehow can get back into the ring but it seems to be only to take more punishment from Gacy. A springboard backhand stunner gets a two count for Gacy. The commentators say Gacy is favored to win Best of the Best and he'd be my pick. Silver somehow fights back and these two men are just leaving it in the ring tonight. Silver seems like he could defeat Gacy, but the fact that he was in the front row not that long ago makes it seem less likely. Gacy scores some near falls, as he seems to be struggling to put Silver away now. Lawless hooks a leg of Gacy which allows Silver a roll up with the tights but it's still only two. Gacy locks the Rings of Saturn on Silver and Rex Lawless gets on the apron causing Gacy to break the hold. As Gacy confronts Lawless, Silver tries to hit Gacy from behind but Gacy moves and Silver hits Lawless. Gacy locks the Rings of Saturn back on and Silver has no choice now but to nod his head "yes" and tap out. Gacy in the Best of the Best Tournament is my favorite and I still want to see this guy fight Drew Gulak as well as maybe even BLK Jeez in a Champion vs. Champion type of deal because the CZW Wired Championship might be a secondary title in CZW but it might hold more stock right now than the big one. How much do you love Joe Gacy after that match? He is on track to becoming my Wrestler of the Year in 2015 without a doubt. He's just everything you want in a wrestler. He's Samoa Joe in his prime. He's just the complete package and it's amazing.
David Starr comes out to tell us he quit CZW three months ago. Did you know that David Starr is in a tag team with JT Dunn known as Juicy Product and the half of the Beaver Boys missing from the previous match Alex Reynolds, faced JT Dunn at House of Hardcore VIII? Juicy Product also faced Anthony Nese & Jigsaw just three nights before this at an FWE iPPV. Starr mentions Tim Donst and tries to put himself over at his expense. Mike Bailey comes out and gives David Starr a pep talk, saying he just needs to be the best David Starr he can be. This brings us right into the next match.
Match Six: David Starr vs. Mike Bailey
Bailey is also in the Best of the Best Tournament and the commentators say he is their pick to win, much like they did in the previous match with Joe Gacy. Only one person can win it all, guys. Baily hits a huge moonsault to the outside onto Starr. The commentators then clarify that they might be changing their pick from Gacy to Bailey. Well, one of them does, but they both talk about it. Starr begins his comeback and then the two men trade blows. David Starr works slow with rest holds, trying to keep Bailey grounded and not let him use his speed either, A "Speedball" chant. Bailey mounts a comeback but still can't seem to be able to put away Starr. Bailey continues to come back with a flurry of kicks while Starr tries to fight it off. Eventually, Bailey hits a twisty-turny knees off the top rope to the side of Starr and it's good enough for the pin and the win. You know how commentators or people writing about matches must have felt the first time they saw Rey Mysterio in the United States? That's how I feel watching Mike Bailey. I can't call this. He's just fast, high-flying and uses everything he can to his advantage to help him win a match.
[Intermission]
Intermission wasn't too long. I heard "Nobody's Real" by Powerman 5000 and had to go see what destruction one of my cat's was causing in my son's room. We come right back with the next match and it's cold in this apartment.
Match Seven: Sozio vs. Eric Corvis
This is Sozio facing his former stablemates in The Front who just happened to cost him his spot in the Best of the Best Tournament at "Sixteen". Sozio starts with a big dive to the outside. Some back and forth in the ring and then Corvis sends Sozio to the outside to be beaten up by his friends. (Corvis' friends / Sozio's former friends) Corvis wrestles in all black and he looks like he got some sort of sale on Kevin Thorne's old ring gear. Sozio bites the head of Corvis and comes back with a tornado suplex from the top rope to gain control. This is quite a bit of back and forth. Sozio flies off of the top rope and hits Corvis with his legs. Wow. If he got any higher on that he would have hit the ceiling. Sozio seems to have the odds working against him, but he pulls a Joe Gacy from earlier in the night and side steps Corvis causing Corvis to hit his own friend. Sozio and Corvis fight on the top rope again and Sozio is biting him once again as well. Corvis has his head stomped into the ring and an attempted three count is broken up by someone on the outside pulling the leg of Sozio. Corvis picks up Sozio onto his back, but Sozio locks on the Tazmission. Corvis looks to be out but The Front gets up on the apron and distracts the ref. With one member of The Front arguing with the ref, another comes in and takes out Sozio while putting the probably unconcious Corvis on him so the ref can count the three. Post match, all four members of The Front beat down Sozio. Yes, Corvis is back alive. Two members of The Front hold Sozio while another watches and the fourth whacks him over the head with a chair. The chair gets wrapped around the head of Sozio for all those worrying about concussions and the such, but that was just a harsh looking move right there. I'm not sure if Sozio has any friends in CZW but he is definitely going to need some after that.
Match Eight: O!4K (Dave Crist / Jake Crist) (Champions) vs. The Nation of Intoxication (Danny Havoc / Devon Moore) *CZW Tag Team Title Match*
This answers my earlier question as to why Danny Havoc was not out during the earlier match, either watching or on commentary, because he was likely preparing for this. This match starts right away and one of the commentators says it is tornado rules which means all four men can be in the ring at once. Moore and Dave Crist trade blows and then Jake Crist pulls Moore outside of the ring. Havoc and Jake are in the center of the ring. They shake hands before trading elbows. Does anyone else have a problem with the apron-like thing Danny Havoc wears? Havoc sends Dave into the guard rail then hits an Asai Moonsault onto him as well. Jake hits a DVD onto Havoc back inside the ring. This is chaotic and all four men are in the ring now. A double blockbuster takes out both Crist brothers but all four men take a bit to recover. Havoc chops Dave then whips him into the corner. Moore hits him in the corner followed by Havoc, so Dave rolls to the outside. Jake then gets worked over by both members of the NoI. The challengers seem to be doing a better job of double teaming here. Jake comes back though and gets himself in the ring with Havoc alone. Havoc hits a Russian leg sweep that sends Jake's head onto the bottom turnbuckle. Ouch. Jake lights Havoc up with kicks as Moore hits a shooting star press on Dave Crist. Dave kicks out of the SSP pin attempt and in a somewhat odd manner, Jake hits a brainbuster out of nowhere onto Devon Moore for the pin and win. Jake looks like he might be legitimately hurt here. Post match, Havoc asks for a rematch and the crowd seems into it so it looks like it will happen one more time. Danny Havoc is the CZW booker, right?
Match Nine: Matt Tremont vs. Stockade *No Ropes Barbed Wire Match*
Okay, I was wrong about the Hall of Fame part going on first and saying it instead should have been somewhere later in the show. This card has flowed quite well without it being in between one of these final matches and I almost feel like it might have not been as good if it was saved for later on at some point. So, yes, perfect placement by CZW and my initials thoughts are proven wrong by time. The two men begin with a collar and elbow tie up and this one is going to be hard for either man to move the other into those barbed wire strands because each of them is just so big. Stockade is the first to shake the ropes. Tremont has to put his hand out to stop from going into them as well. Stockade hits two dropkicks and each time Tremont teases falling backwards into the barbed wire but doesn't. Tremont plays to the crowd, allowing Stockade to throw Tremont into the barbed wire ropes. Stockade uses some of the barbed wire to carve into the head of Tremont. Tremont is bleeding heavily. Stockade has a barbed wire bat now and a strand of barbed wire had wrapped itself around the neck of Matt Tremont. Tremont ends up being able to somehow fight back and he hits Stockade in the back with that barbed wire bat. Tremont stands on the barbed wire bat on the back of Stockade after running it across the back, adding insult to injury. Tremont rams the barbed wire bat into the head of Stockade and I'd say both of these men are equally beaten perhaps now. As Stockade tries to leave the ring he gets stuck in the barbed wire and that might not have been his best choice. Tremont cuts some of the barbed wire so he can get out, which makes you wonder why Stockade didn't just do that as well. Must've been in too much of a hurry. Tremont works Stockade over with a chair. Someone in the crowd can be heard saying "Kill him, Matt. Just do it". These fans are blood-hungry. Stockade is set up sitting in a chair and Tremont wraps him up in barbed wire. There is a spool of barbed wire near the ring and Tremont grabs it and makes the CZW staff help him wrap himself up in the barbed wire. Shades of Sabu. Tremont flies out of the ring and Stockade gets up, resulting in Tremont eating that chair while wrapped in barbed wire and at a rather fast pace. He took too much time, people. Stockade hits a Cactus Jack elbow onto Tremont as both men are still wrapped in barbed wire but Stockade also wrapped up his elbow special for that. Wow. More shades of Sabu wrapping is own leg in barbed wire. Stockade works over Tremont inside the ring, wasting a little time, and he can only get a two count on Tremont though. Tremont hits a reversal and drops Stockade onto a barbed wire chair for a two count. Both men seem so tired. Tremont ends up getting that barbed wire board from outside the ring and he shoves it into the ring. This might be the piece they need for the finish. Tremont blasts Stockade in the head with a chair. Tremont leaves the ring to get a ladder. Let's hope this does not follow typical wrestling weapon patterns and backfire on Stockade. The two men trade blows on their knees and Tremont seems to get the better of it as he sets up that ladder next to the barbed wire board in the corner. Chair across the back of Stockade. Tremont goes part of the way up the ladder and is then sent back down onto that barbed wire board. Stockade only somehow gets a two count there. Stockade blasts Tremont with chairs to the head and Tremont does not go down. Stockade slams him down onto the chair and it looked like a Michinoku Driver somehow. Still, Stockade can only get a two count. Stockade is now setting cinder-blocks up in the middle of the ring and odds are that this will backfire on him. Stockade goes for a powerbomb but is instead back body dropped by Tremont right onto those cinder-blocks. Tremont is stuck in the barbed wire now and Stockade slams him onto those cinder-blocks in a spinebuster fashion but Tremont kicks out. Finally, a DVD onto those cinder-blocks puts Stockade away and Matt Tremont gets the win. Wow. I was expecting that to end with the barbed wire board but that was just brutal. These two men practically killed each other and for fans of the ultraviolent that is most likely going to be your favorite match of the year thus far. Post match, the arena goes dark. When the lights come back on, Tremont screams "Where you at?" while the crowd briefly chants "Nick Fucking Gage". Unless they were chanting for Nick Cage, which would have been pretty awkward. Tremont says he's waiting for Nicky but nothing seems to come of it... yet.
Overall, this was an interesting show that featured a lot of tag team wrestlers in singles bouts. Joe Gacy once again proves to be a force to be taken seriously while Gulak does as well. These are two of my favorites in CZW right now and that doesn't even account for O!4K. I'd really like to see O!4K vs. reDRagon but realize independent politics might prevent it from happening. Still, there is to be a whole lot of talent in the Best of the Best Tournament and three other huge matches already signed based on this show so it did a nice job of building up to that for sure. I just don't feel like this was a filler iPPV either though, as some of these matches are must see (especially the main event, wow, just wow) and it does connect "Sixteen" with "Best of the Best" which is always important. In that way it does seem more essential because as opposed to being filler or a throwaway iPPV it's closer to a bridge and how many PPVs can you really say that about these days? A solid show all around that you knew (hoped) would be violent going into it but just delivered by taking violence to new levels. I was rather surprised when I watched CZW "To Live is To Die" because I thought that maybe CZW had focused more on wrestling and less on the violence for various reason (They'd been doing violence for too long, the times they are a-changing, etc.) but this right here just proved that CZW still knows violence and can innovate like no one else in the year 2015. The idea of not having these type of matches (which feels racist to say somehow) on every show does seem to make them feel special when they do occur and this was no exception. You have to understand how much I love Joe Gacy and O!4K and some of these other matches on this show when I say that simply, "Deja Vu" is worth the asking price simply based on the main event. That isn't to say that the main event is the only match worth watching because it was supported by a stellar undercard that you should be paying even more to see but are essentially getting for free.